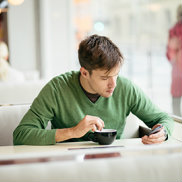 Mobile Banking
Securely access your money wherever you are. Our mobile banking is easy, reliable and available to all online banking users. It puts your most important banking tasks within reach while you're on the go, anytime, anywhere you are!*
Our mobile banking is a flexible tool that you can use your own way. Whether you prefer texting, web browsing, or using a downloadable application, we've got a solution for you.
Summary

Check account balances
Review recent account activity
Transfer money between accounts
Get directions to branches and ATMs
Access your accounts with a single, secure login
Simply send text, use the browser, or download our smartphone app!




How to get started

Simply log in to the online Banking and click the "Mobile Enrollment" link on the User Services tab to register for Mobile Banking. You will need your online banking credentials to enroll.

Select the method you wish to use, whether it's SMS (Text) banking or mobile banking

Follow the instructions you receive as text messages on your phone, and you can begin using Mobile Banking right away.

So don't delay, simply log on to online banking and sign up today!

*Note Cellular phone carrier charges may apply for internet access and text messaging. Contact your provider for information regarding those charges.