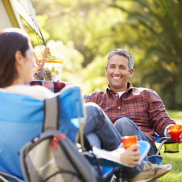 A Real Community Bank Club
A Real Community Bank Club is one of our most popular accounts! It's packaged with a wide array of discounts, bank services, and other opportunities to save hundreds of dollars each year, all for one low monthly membership fee of $6.99.
Plus, you can add extra coverage to protect you and your family for a couple more dollars a month. Join the club today and start taking advantage of its great benefits and added savings!
Summary

A checking account full of extra benefits
Low monthly fee of $6.99
No minimum balance requirement
Unlimited check writing
Free online banking*
Free mobile banking**
Monthly imaged eStatement AND/OR combined statement (upon request)
Free initial Visa® debit card (for qualified applicants)
Free Club Checks (limit 2 boxes per year) or $5 discount on checks of your choice
No charge for purchase of cashier's checks
Ten free photocopies per month
50% discount on stop payment orders and wire transfers fee
Hotel and motel discounts
Prescription drug, hearing instruments and prescription eyewear discounts
$10,000 AD&D coverage, $20,000 Common Carrier coverage
Identity Theft 911
Discounted Life Lock Services (additional steps required by the account holder)
Early closeout fee within 180 days of opening is $32.95
For individuals and joint account holders only
$25.00 minimum to open

*Note internet provider charges may apply.

**Cellular phone carrier charges may apply for internet and text messaging. Contact your provider for information regarding these charges.

Additional Coverage

Double Coverage

All the features of the CLUB account with added AD&D coverage.

$25.00 minimum to open
$20,000 AD&D coverage, $50,000 Common Carrier coverage
Monthly membership fee of $7.99
For individuals and joint account holders only

Family Coverage

All the features of the CLUB account with added coverage to protect you and your family.

$25.00 minimum to open
$20,000 AD&D coverage, $100,000 Common Carrier coverage
$2,500 AD&D coverage on each child
Monthly membership fee of $8.99
For individuals and joint account holders only